FileMaker Pro LogBook.FP3
---
Requires FileMaker Pro v3.x for Macintosh or PC/Windows .
FileMaker Pro is a database program from the Claris Corporation.
LogBook.FM3 will NOT work with FileMaker Pro v2 or any version of ClarisWorks.
---
A demo of Claris' FileMaker Pro is available on the internet from Claris.
This file replaces all previous versions of LogBook.FM v2.xx
Macintosh users require UnStuffIt, StuffIt or appropriate utility.
PC/Window users require UNSIT.EXE, UnStuff/PC 1.1, STUFF.EXE, UnMacIt or an appropriate utility.

Filename logbook.v3.03.sit.hqx [1285Kb]

Please note: I no longer remember the password to this program.
Although hundreds of people are still using this program, I can offer no support.
It was developed several years ago.

Uploaded as an encoded BinHex file AND compressed using StuffIt 1.5.1.
UnMacIt for PC/Windows [63Kb], a utility to unstuff and unencode BinHex Macintosh files.StuffIt Lite 3.5 for Macintosh [823Kb]

When you first open LogBook.FM3 you will be brought to this page.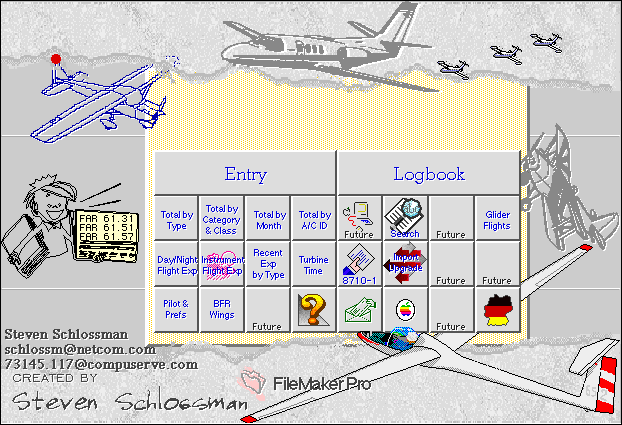 From here you can choose to enter a new flight or check your total time. There are 6 different entry layouts to suit your needs. Student, Private Pilot, Senior Pilot, ATP, Glider and a German layout.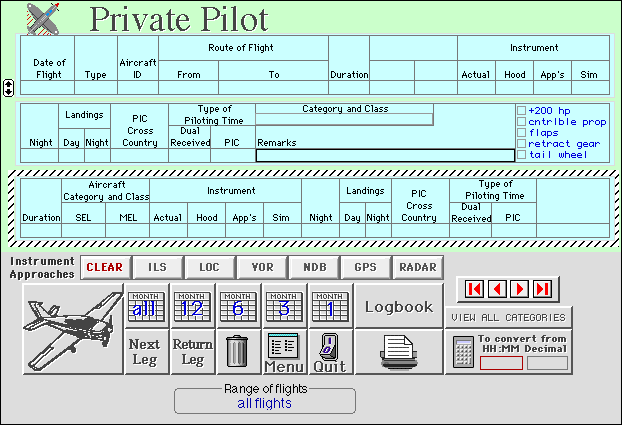 Registering does nothing more than remove a pesky shareware message from appearing after 50 flights. If you have been using my version LogBook.FM v2 you should be able to import your flights with relative ease.

---
Version History
3.02
Clarified upgrading directions.
3.01
Add new record to entry button script when record count equals zero.
Fixed MEL total size in ATP flight log layout. Minor editing.

3.00
Updated LogBook.FM v2.34 to v3.00
2.34
Last Maintenance fix using FileMaker Pro v2.
2.00
Updated from FileMaker to FileMaker Pro.
1.00
Looking back, pretty pitiful.
---
Need the latest Mile High Club Regulation?
Visit the EAA.
Visit the AOPA.

---
---
Steven Schlossman

URL: http://www.happytogether.com/logbook/